Careers with Select Health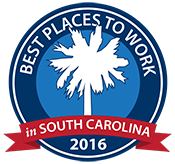 A career with Select Health of South Carolina is more than a just job. Here, we are contributors, difference makers, and life changers. It's part of our mission to help those in need.
In 2015, the South Carolina Chamber of Commerce recognized our comprehensive employee wellness programs, great employee benefits, and strong mission and named us one of the Best Places to Work in South Carolina for the eighth consecutive year.
We're looking for talented leaders, visionaries, and collaborators who want to help us make an impact in people's lives. If you're committed to excellence and have a passion for serving others, consider joining our team.